FOUNDED: 1954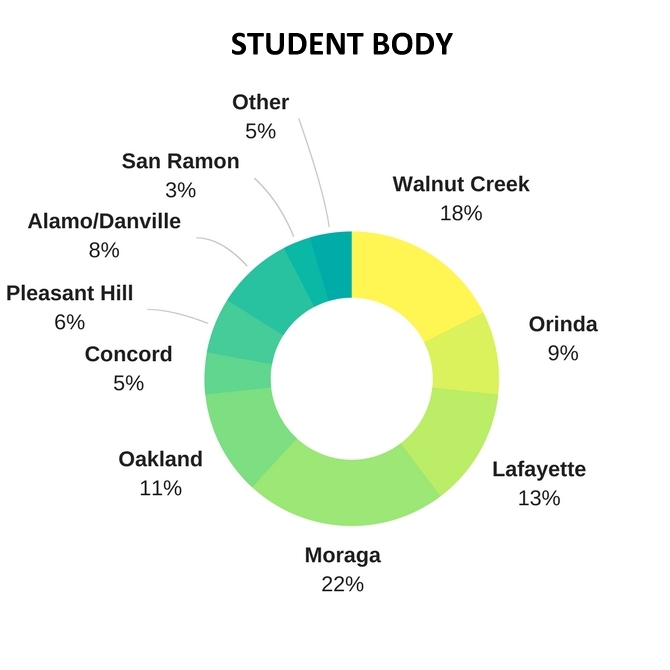 ENROLLMENT: Approximately 145 students
GRADES:  Preschool through 8, 1 class per grade level
FACULTY & STAFF:  33 teachers and staff
FACULTY  with 10+ YEARS AT SAKLAN:  7
AVERAGE CLASS SIZE: 13
STUDENTS OF COLOR: 43%
SPECIALISTS:
    •    Music
    •    Spanish
    •    Visual Arts
    •    Science
    •    PE
    •    Library
TECHNOLOGY: Middle school students use laptops and teachers use smart boards to integrate technology in their daily classes. Fourth and fifth graders utilize class sets of chrome books to incorporate technology in class. Lower school students use iPads to practice skills in all subject areas.
TEST SCORES: Twice a year, students in grades 2-8 take the MAP test, a standardized national test. Outstanding test results validate the quality of Saklan's academic program.
CAMPUS: 2 acre campus under the Redwoods, 13 classrooms, library, administrative offices, 2 playground areas, and a sport court.
AREAS SERVED: Alamo, Concord, Danville, Lafayette, Martinez, Montclair, Moraga, Oakland, Orinda, Pleasant Hill, Pinole, San Ramon, Walnut Creek and other communities in the area.
BUS SERVICE: Saklan offers daily, round-trip bus service to and from Pleasant Hill, Walnut Creek and Lafayette.
FINANCIAL ASSISTANCE: Available to families of widely varying means; based on demonstrated need. 16% of students currently receive financial assistance.
PARENT ASSOCIATION: Every parent is automatically a member. Parent Education events are held throughout the year.
EXTENDED DAY: Available daily from 7:45 a.m. to 5:30 p.m.

AFTER SCHOOL ENRICHMENT CLASSES: Classes vary throughout the year and upon interest. Recent offerings included: Robotics, Music, Chess, Ceramics.
ACCREDITATION AND MEMBERSHIP ORGANIZATIONS:
                                  Accredited by                                                                                      Member of