Pre-K at Saklan
A young child's best learning tools are their head, hands, and heart, as they examine the world around themselves, discover the world inside themselves, and master the skills that are the building blocks for the future.
At The Saklan School, we follow the whole child approach to learning. Each child deserves to be healthy, safe, engaged, supported, and challenged. We accomplish this through a holistic approach to development and education: hands-on, cooperative play and thoughtfully designed activities that stimulate the mind and provide socialization opportunities.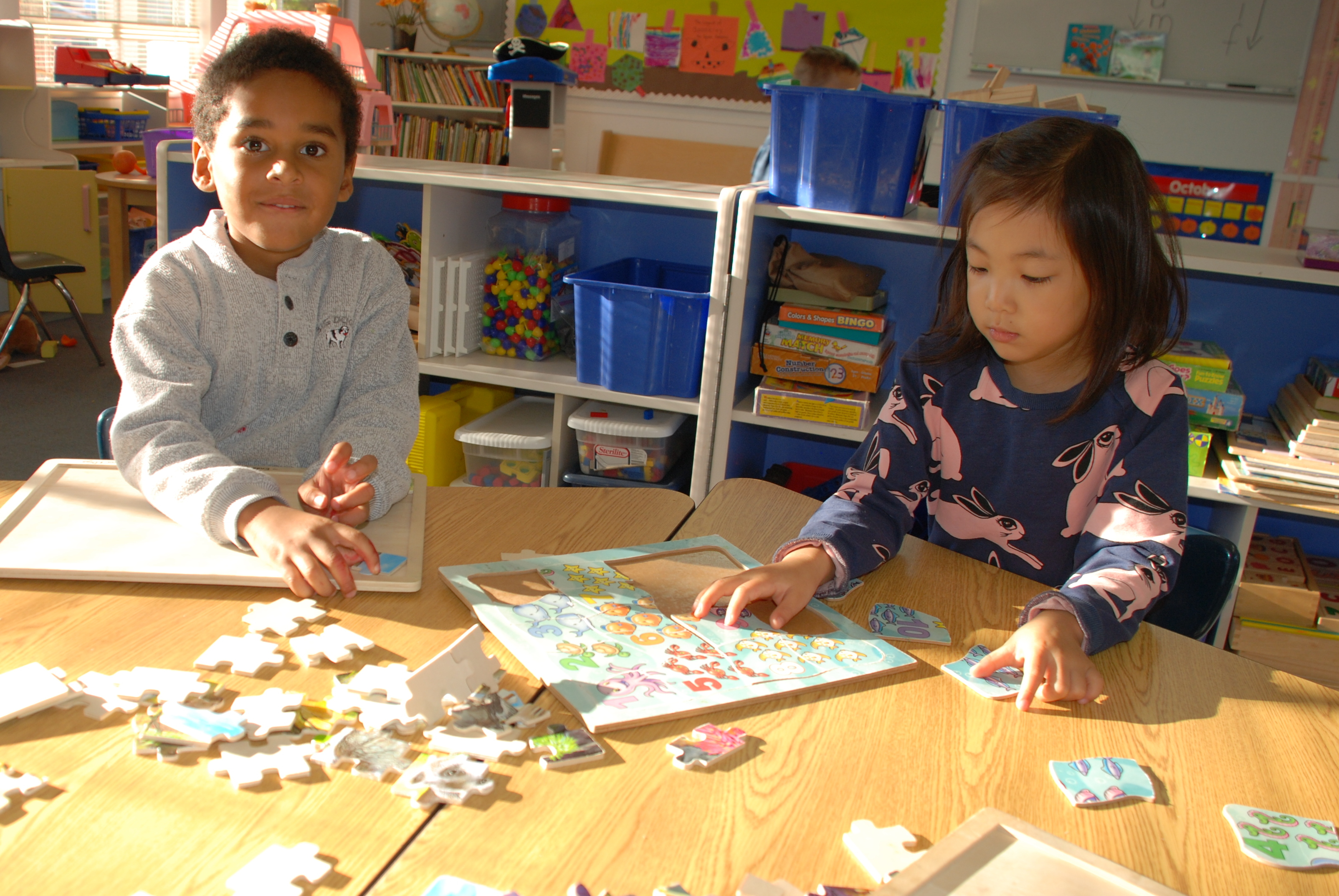 Saklan School pre-k offers small class sizes with a low teacher:student ratio, so our teachers can nurture each child as an individual. Our teachers act as guides, scaffolding a child's growth by interacting with them as they explore. Children are encouraged to learn through their curiosity, make connections to the world around them, and be a part of the learning process. Immersed in a warm and caring educational environment, our pre-k children develop strong social-emotional competency to be productive members of a classroom and school community.
A typical day in Pre-K, (including our three-year-old classroom), is designed to transition children through guided activities that support their development and challenge their growth. Our monthly themes allow teachers to help children build on developmental changes by exploring more abstract curriculum units, such as:
All About Me: 5 senses
Health and Nutrition
Fall
Reptiles
Holiday Celebrations
Winter

Pond Life
Friendship
Sea Life
Space
Seeds and Planting
Our Pre-K program introduces the building blocks on which our elementary program is constructed and prepares your child for success throughout their educational journey: kindergarten, elementary school, and beyond. We encourage individual growth in each curriculum area from reading to math, and social studies to science. We nurture each child's developmental timetable to ensure successful discoveries, a love of learning, and a strong sense of self-esteem.
Pre-K Program Details
The Saklan School has a three-year-old classroom and a four-year-old classroom. Both classrooms include a five-day, full day program, 8:30AM - 2:00PM with extended day available from 7:30AM - 6:00PM.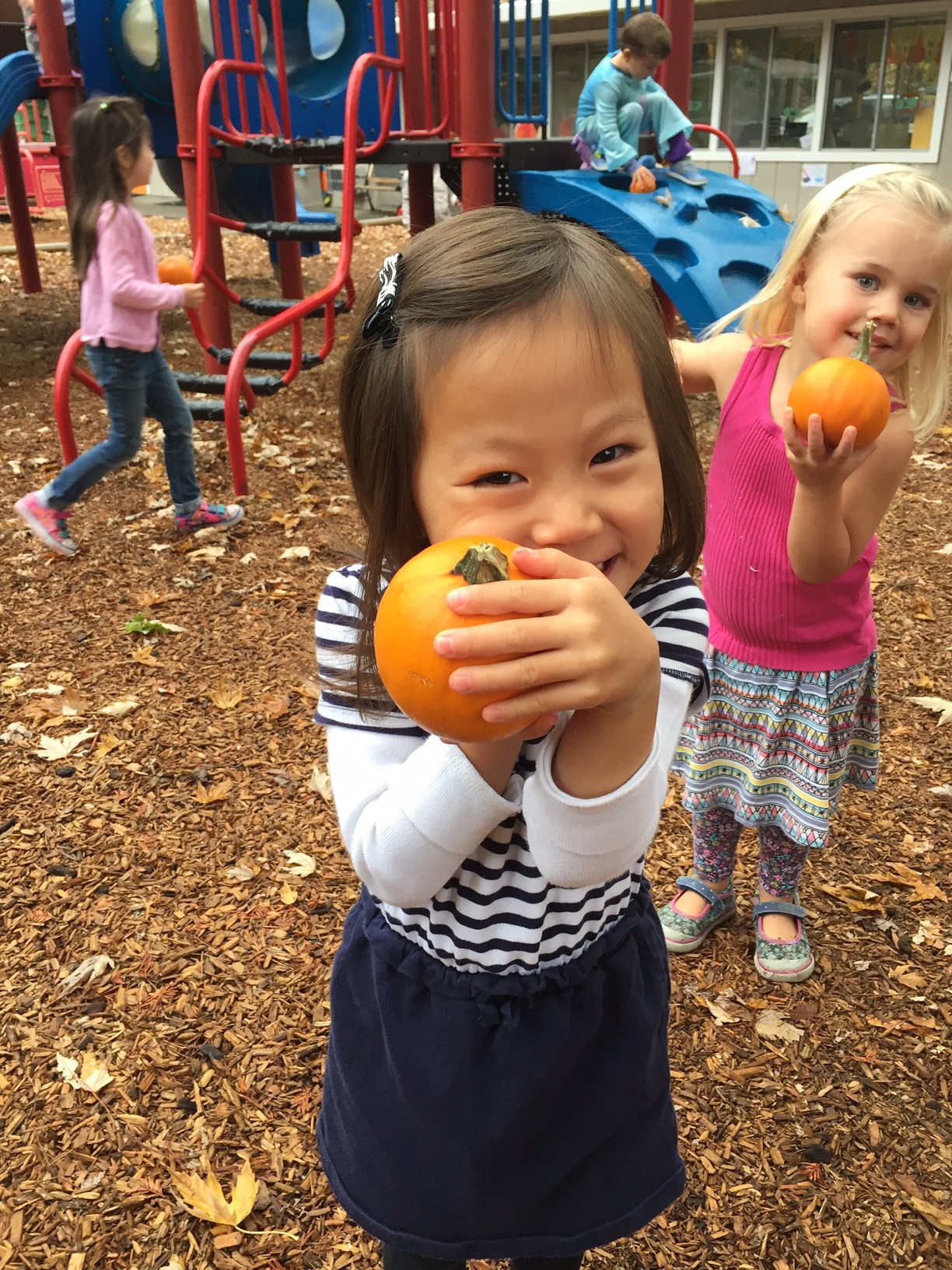 In addition to the core curriculum, Pre-K children also experience:
Spanish
Pre-K meets for Spanish three times a week, for 20 minutes. These courses are aimed to be fun and serve as a gentle introduction to foreign language, taught with an emphasis on interactive activities, stories, songs and games that are used to introduce vocabulary and commonly used phrases in Spanish. Our Pre-k students also engage in art projects to help the children draw association to the Spanish material as they speak and create.
Music
Pre-K meets for Music three times a week, for 20 minutes. Music is an important part of our Pre-K k students' education at the Saklan School. We invite the children to experiment with different instruments, experience different styles of music, and introduce them to elements of live performances.
Physical Education
Scientific studies show that sustained vigorous movement is essential for optimal brain development. To promote student movement, time for recess is provided daily, and physical education class meets several times a week. The Saklan School is a small school campus. The outdoor space is divided into several yards. Physical education classes use the hard surface area the turf space, and the climbing structure. A smaller yard is used for recess by the pre-school grades and kindergarten exclusively. The Pre-Kindergarten focus for physical education is as follows. Sustained motion such as run, walk, dash. Introduction to the larger yards. Exploration in ways of movement while changing levels, low to the ground changing to above the ground(climbing and jumping). Exploration of manipulation of objects such as: balls, hula hoops, jump ropes, bean bags, parachute, tug 'o' war rope, sticks and bats. Experience in playing as a group (collaboration and sportsmanship). Experience outside especially weather conditions and seasons. Introduction to the sports of basketball, soccer, floor hockey, and other large group games.
Library
Our pre-k students take part in weekly school library visits. These visits allow young students to explore a world of books and see how reading serves their learning journey.
Field Experiences
Our field experiences offer unique opportunities to our Pre-K students. Visits to Moraga Community Garden, MOCHA (The Museum of Children's Art, Crab Cove, Heather Farms, the zoo, fire station, offer young minds educational experiences that connect classroom learning to the world outside of the classroom.
Optional Enrichment Classes
In addition to the core education classes, Pre-K children receive optional enrichment classes taught after 2:00 PM including dance, yoga, T-Ball, and soccer
Teachers
Amanda Neff
Pre-K Teacher/Summer Camp Director
Email Amanda
• B.A. CSU East Bay
Amanda grew up in Rocklin and moved to the Bay Area in 2006. She joined The Saklan School in 2009, where she started as an Assistant Pre-K teacher. In 2010 she received her BA in Human Development with an emphasis in Child Development from CSUEB. Amanda got to let her teaching skills and experience be shown when she became our head 3s teacher in 2012.
During the summer months, Amanda can be found as the Co-Director of Summer@Saklan where she enjoys the high pace fun of exploring new adventures in language and culture. She also teaches a cooking class to Pre-K and Kindergarteners at Saklan. She loves teaching the children the joys of cooking.
When Amanda is not at Saklan she enjoys being outdoors with her husband and German shepherd, Ace. She also enjoys gardening, cooking, and spending time with family and friends.
Traci McMillan
Pre-K Teacher
Email Traci
• B.A. Community Studies: Emphasis in Art Education and Community Art, UC Santa Cruz
• 15 ECE Units Completed, Cuesta College, San Luis Obispo
Traci was born and raised on California's Central Coast. She developed a love for art, dance, theater and community building at an early age. Traci received her Bachelor's degree in Community Studies from the University of California Santa Cruz. She has worked closely with young children for over a decade. Traci decided to pursue a career in Early Childhood Education during her work with several Bay Area non-profit organizations including, The Museum of Children's Art, The San Francisco Children's Art Center and Precita Eyes Muralists.
Traci has been teaching Pre-K for the past five years in the Bay Area. She is thrilled to bring her love of art, nature, and social justice to the Saklan community. When she isn't laughing, getting messy, and having a ball at school, she enjoys getting messy at home. Traci finds inspiration in the uninhibited and carefree art of her students. She can often be found painting, drawing or taking photographs. She has had many photographs published by the analog film magazine, Films and Grains. Traci also loves to garden and hike in the beautiful California redwoods. She has become very fond of the Pacific Northwest and tries to explore the coast whenever possible. She could not be happier to join the Saklan team this year as the Pre-K Hoot Owl teacher!
Erin DeMoss
Pre-K Assistant/Extended Day Teacher
Email Erin
Erin was born and raised in the Bay Area. She has 1 sibling and the world's cutest dogs, Rambo and Scarlett. Erin joined the Saklan faculty in 2018. She loves working as an Assistant Teacher. Erin is currently pursuing a Bachelor's degree in Pre-K teaching credential.
In her free time, Erin enjoys spending time with her family, going to the dog park and watching Golden State Warriors.
Jessica Brand
Pre-K Assistant/ Extended Day Teacher
Email Jessica
Karen loves teaching Kindergarten at Saklan and uses her student's innate abilities to be creative, compassionate and courageous as the foundation for the Kindergarten curriculum. A fourth generation San Franciscan, Karen has a BA in Psychology from the University of San Francisco and an Elementary Education credential from San Francisco State University. She began her career teaching Kindergarten for ten years in San Francisco and Menlo Park. For the next 15 years, Karen was very busy raising her three children. In 2005, Karen decided to return to teaching and began teaching Pre-Kindergarten at Saklan. In 2009, Karen became the Director of Saklan's Early Childhood program while continuing to teach Pre-Kindergarten. In 2018, she became the Kindergarten teacher. Karen enjoys being with her family and reading.
Joy Alvarado
Pre-K Assistant/ Extended Day Teacher
Email Joy
• ECE Basic Teacher Certificate, DVC
Joy was born and raised in the Bay Area. She has 3 siblings and the world's cutest dog, Rocky. Joy joined the Saklan faculty in 2016. She loves working as an assistant teacher. Joy is currently pursuing a Bachelor's degree in Sociology and a Pre-K teaching credential.
In her free time, Joy enjoys spending time with her siblings and watching the SF Giants!
BOOK A TOUR