FOUNDED: 1954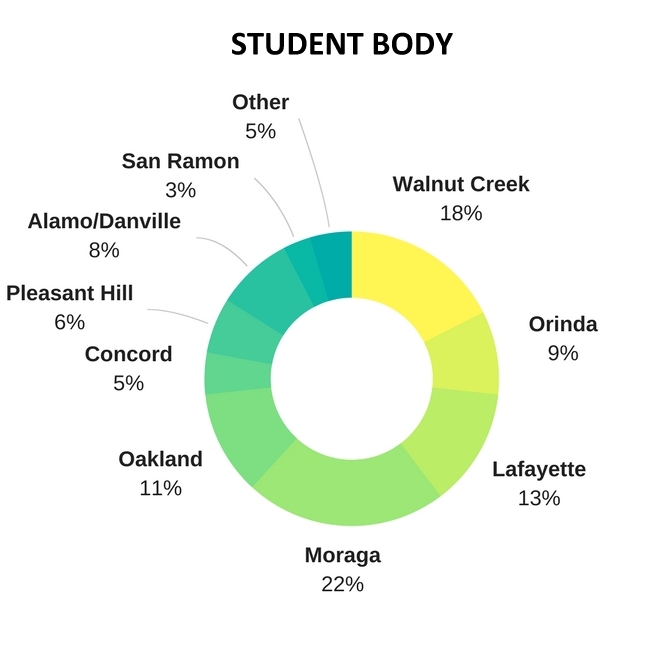 ENROLLMENT: Approximately 132 students
GRADES: Pre-K through 8, 1 class per grade level
FACULTY & STAFF: 30 teachers and staff, average tenure 15 years
AVERAGE CLASS SIZE: 12-14
SPECIALISTS:
• Music
• Spanish
• Visual Arts
• Science
• PE
• Library
TECHNOLOGY: Campus wide wireless network. Middle school students use laptops and teachers use smart boards to integrate technology in their daily classes. Sixth and seventh graders take a weekly course in Word, Excel, Power Point, and programming. Third through fifth graders take a course in basic keyboarding, internet usage and various computer programs.
TEST SCORES: Each spring, students in grades 4-8 take the ERB's, a standardized national test of the Educational Records Bureau. Outstanding test results validate the quality of Saklan's academic program.
CAMPUS: 2 acre campus under the Redwoods, 13 classrooms, library, administrative offices, 2 playground areas, and a sport court.
AREAS SERVED: Alamo, Brentwood, Concord, Danville, Lafayette, Martinez, Montclair, Moraga, Oakland, Orinda, Pleasant Hill, Pinole, San Ramon, Walnut Creek and other communities in the area.
BUS SERVICE: Saklan offers daily, round trip bus service to and from Pleasant Hill, Walnut Creek, Lafayette and Orinda.
FINANCIAL ASSISTANCE: Available to families of widely varying means; based on demonstrated need. 26% of students currently receive financial assistance.
PARENT ASSOCIATION: Every parent is automatically a member. Monthly meetings and Parent Education events are held throughout the year.
EXTENDED DAY: Available daily from 7:30AM to 6:00PM.

AFTER SCHOOL ENRICHMENT CLASSES: Classes vary throughout the year and upon interest. Recent offerings included: Gymnastics, Dance, Science, Soccer, Mandarin, and Cooking.
ACCREDITATION AND MEMBERSHIP ORGANIZATIONS:
Accredited by Member of